Aduh aku suka banget episode Spongebob yang ada nyanyinya!
Masih ingat nggak sih sama episode Spongebob yang ini? Kalau lupa, episode ini bercerita tentang Spongebob yang iri terhadap Larry yang keren dan macho yang menarik perhatian Sandy darinya. Suatu saat Spongebob tidak sengaja merobek celananya. Meski awalnya ia merasa seperti pecundang, tetapi justru celana robeknya menjadi lelucon yang ditertawakan banyak orang. Ia pun mendapat perhatian orang banyak, termasuk Sandy. Sayangnya hal itu tidak bertahan lama..... Spongebob pun menyadari apa yang salah darinya dan mengungkapkannya dalam lagu ini.
Check it out!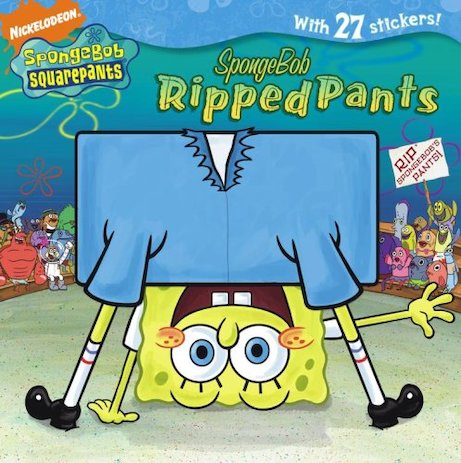 I thought I had everybody on my side
But I went and blew it all sky high
And now she won't even spare a passing glance
All just because I r
ipped my pants.....
When big Larry came round just to put him down
Spongebob turned into a clown
And no girl ever wants to dance
With a fool who went and r
ipped his pants
I know I shouldn't mope around I shouldn't curse
But the pain feels so much worse
'Cause windin up with no one is a lot less fun
Then a burn f
rom the sun o
r sand in your buns
Now I learned a lesson I won't soon forget
So listen and you won't regret
Be true to yourself don't miss your chance
And you won't end up like the fool who ripped h
is paaaaaants~
Aku suka episode ini karena masalahnya cukup simpel dan klasik, yaitu tentang kecemburuan dan minder. Meski mainstream tapi ngena. Kita kayak ngerti banget apa yang dirasain Spongebob karena kurang lebih kita pernah ngerasain hal yang sama :3

Btw dulu pas masih kecil nonton episode ini aku nggak ngerti sama sekali Spongebob nyanyi apa, soalnya waktu itu nggak ada subtitle-nya dan tidak di-dubbing ke bahasa Indonesia XD Hebatnya walau nggak ngerti tetep ngerasa lucu...

Masih inget nggak sih reaksi pertama kalian pas nonton episode iniii~